All Services for Drivers
in Single Application
Make your payments for car parks and motorways convenient, find and purchase the best insurance for your car. Service your car, repair it, purchase tyres, calculate an offer and acquire a car through the monthly fee scheme or sell it.
Owing to the integration of all services these activities may take up to a few clicks on your mobile device. Autokonto offers comparison engines for insurance policies, financial offers and tyre prices. You may rest assured that you are making your car-related purchases at the most competitive prices.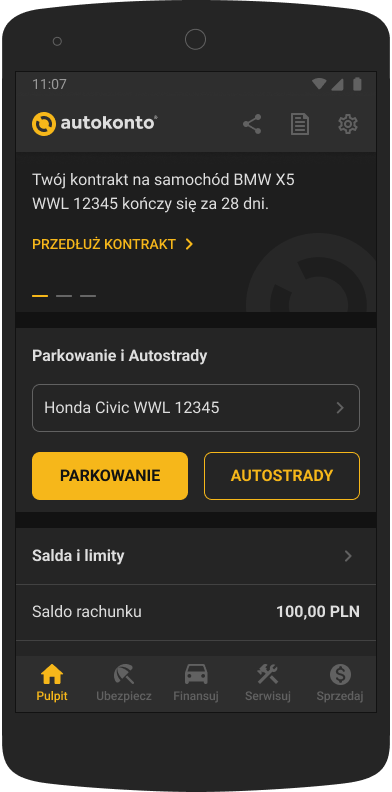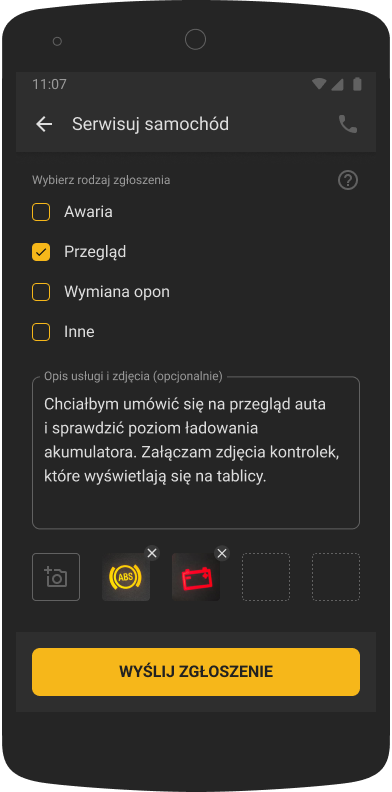 Autokonto will assist you in arranging for servicing of your car including the choice of the garage and the time of the service to be provided. The application will enable you to accept estimate cost of servicing. You can use the application or discuss an issue of your concern with an experienced service adviser.
Autokonto will facilitate selecting and purchasing tires for your car. As early as a day after will you be able to collect your tires at the place of your residence or at the chosen garage where they will be fitted in your car.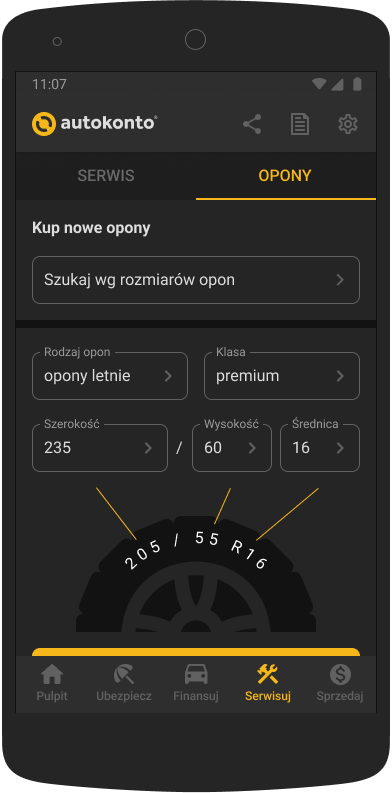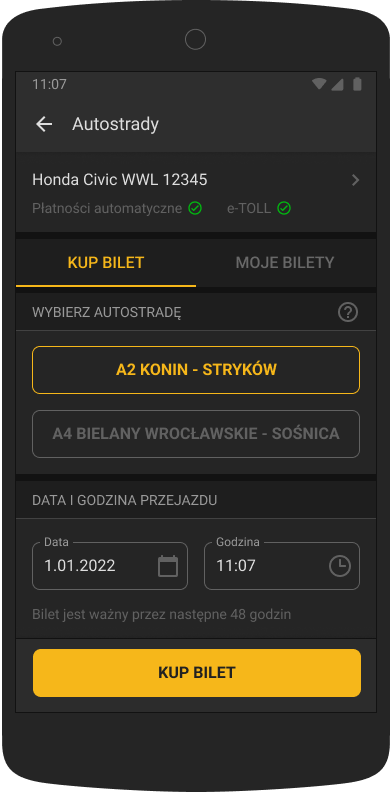 Autokonto will enable you to make payments for driving on motorways using two payment system in operation in Poland.
We are partners for the Electronic Payment System of National Tax Administration. The application enables you to purchase motorway tickets for the fee-paid sections of national motorways. More …
You can also automatically make payments for the licenced sections of motorways through the application. It is enough to enter your car details and agree on the way of charging fees. Then your car will be automatically recognised both at the motorway's entrance and exit.
Using Autokonto application you will pay for car parks in over 100 locations in Poland. All of this will be arranged through just a few clicks and is commission-free.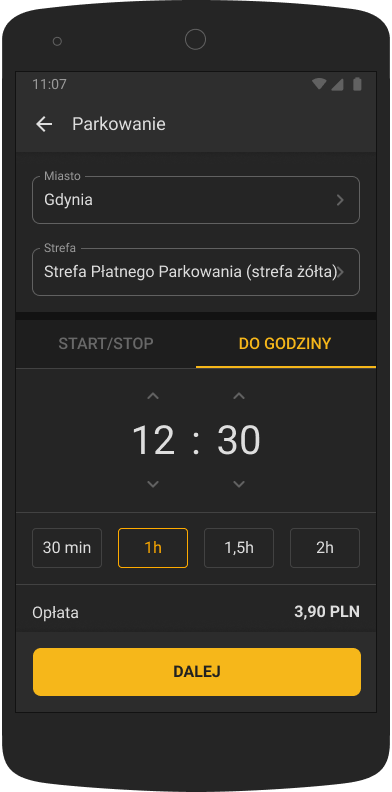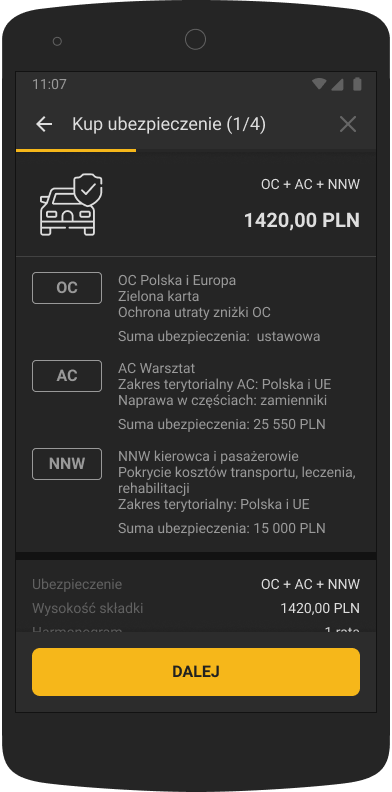 Thanks to the integrated search engines you will find the best insurance offer for your car on the market. Owing to the integration with other modules of the system, you will not have to enter your car details again while calculating your insurance. You will also choose the best payment method for your insurance. You can select insurance on your own in the application or, if need be, an experienced adviser will be at your disposal. It is enough to click on the phone icon in the application.
You will be in the position to make an insurance claim and arrange for repair work on your car after an accident. You can do it on your own through the application or with the assistance of our consultant who will help you at every stage of this process.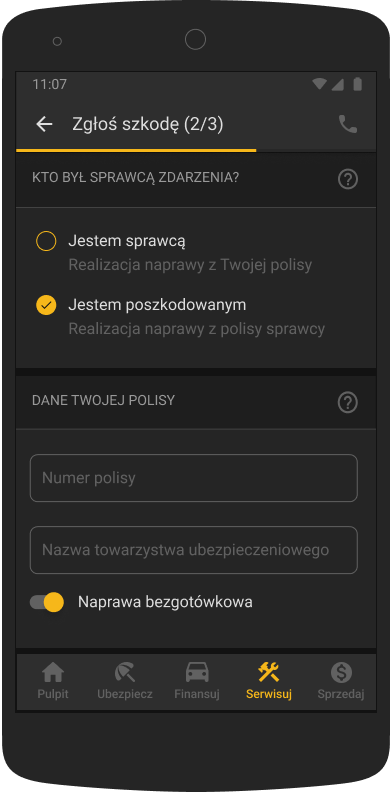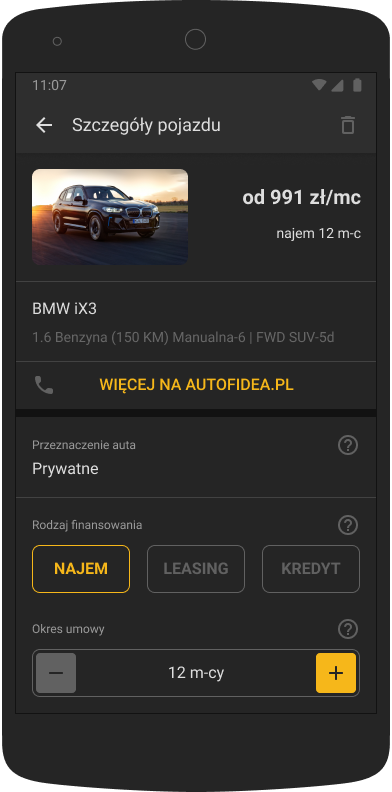 You will be able to select your car from Autofidea catalogue through the application. You will also be informed about the ways of financing it by our partners. Autokonto will support you in choosing the optimum financing option and facilitate finalising a deal. Admittedly, your offer will include the most attractive discounts available for you or your employer.
Find and Finance your Car
Autokonto will also support you in finding and financing your car. If you spot a car you are interested in just take a photo of it – we will automatically recognise the make and the model and do our best to provide the most attractive offer. Should you take a photo of a car of your choice at one of our partners' showrooms or sites, we will recognise its registration number and give you additional information about this car including the special price available only for you.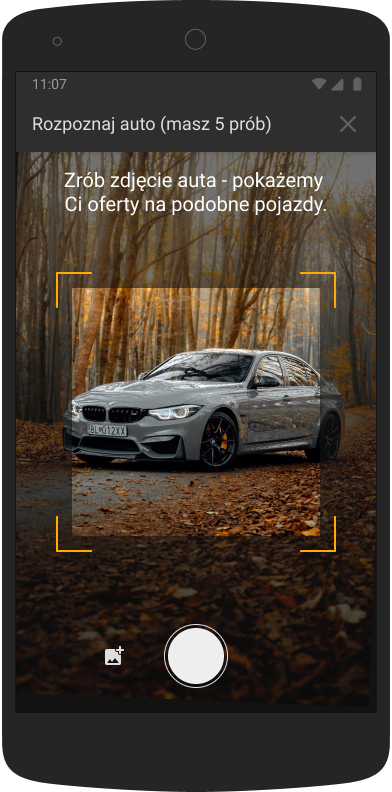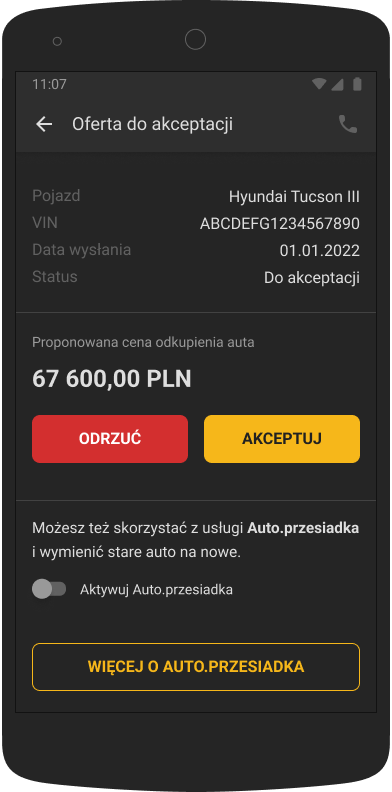 You can use Autokonto to conveniently and easily sell your car. The application takes you through the creator, with the help of which you will take photos of your car, verify data and send out an advertisement.
The application will present you with the best offer prepared by the dealers who cooperate with us. If you accept the sales offer, a dealer will pay you a visit so as to sign an agreement form and collect the car.
The application will provide you with your individual auto.konto account which could be used for making payments after topping it up with Blik, a debit card or an electronic transfer.
It is possible to use the granted limits for financing selected services connected with your company car or to take advantage of special sales promotions.